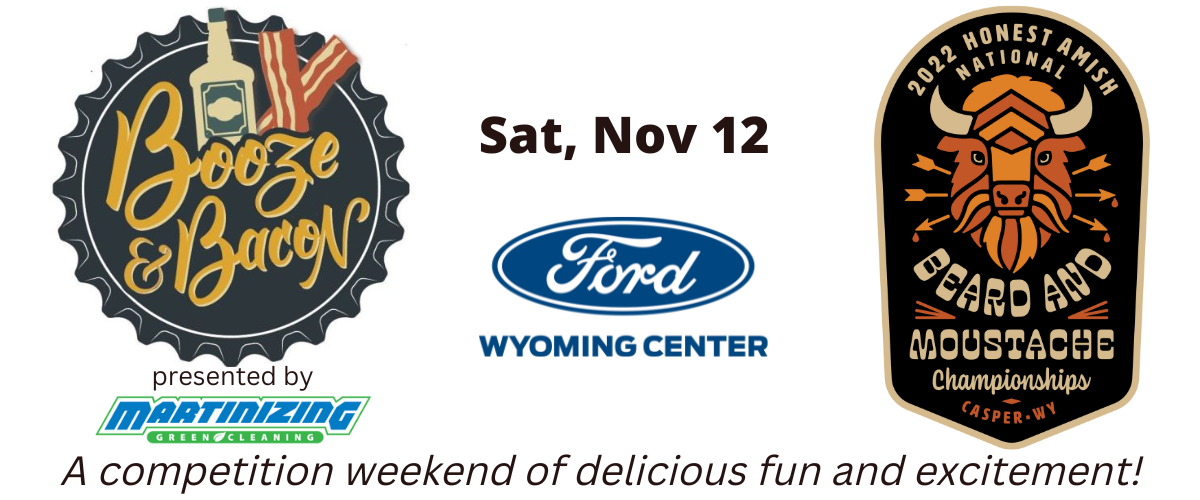 Booze & Bacon Festival and National Beard and Moustache Championships
Booze & Bacon Festival and National Beard and Moustache Championships
November
12
, 2022
Booze & Bacon Festival and National Beard and Moustache Championships
Date

November

12

, 2022

Event Starts

11:00 AM

Ticket Prices

$25.00 Advance | $30.00 DOS | $60 VIP | $10 LATE

Availability

On Sale Now

Doors Open

10:30 am
Event Details
Beard Team USA, Visit Casper, and the 2022 Booze and Bacon Festival are planning a competition weekend of delicious fun and excitement on Saturday, November 12th.
Spectator tickets will be sold in advance or in person at the door and will include admission to both National Beard and Moustache Competition and Booze and Bacon Festival activities. All Spectators and Competitors will be able to sample booze and bacon from the various vendors.
The 2022 Booze and Bacon Festival, presented by Martinizing Dry Cleaning, will feature bacon-filled dishes from a variety of local restaurants and samples of beer and liquor from national and local reps. All samples are included with admission.
The 2022 Honest Amish National Beard and Moustache Championships® are organized by Beard Team USA®. The purpose of the Nationals is to find and honor the best facial hair in America, but beardsmen from all over the world are invited to compete. A panel of distinguished judges will choose the best of the best in 18 categories ranging from the delicate Dali Moustache to the anything-goes Full Beard Freestyle. The competition is open to the public starting at 11:00 am and will continue into the evening until the last champion is awarded.
Booze and Bacon event hours are from 11:00 am to 2:00 pm. Doors will open at 10:30 am. Attendees will vote on their favorite food dish, beer, and drink. Trophies will be awarded to the people's choice in each category. A limited amount of merchandise, packaged beer, and liquor items will be available for purchase from the retail section at the event.
Safety first! The Ford Wyoming Center has a designated Uber pick-up and drop-off point at the circle outside of the SinclairTix Box Office. Venue staff will also be available to aid with contacting local cabs or Safe Ride to assist patrons to get home safely.
A portion of the proceeds will benefit Project Kenny and The Unaccompanied Students Initiative. Tickets will be $25 in advance or $30 on the day of the show. VIP tickets are available for $60 each and will include VIP Lounge in the Rockstar Balcony, Specialty Cocktail and Bacon Pairing samples, VIP Lanyard, and a swag bag.
The Booze and Bacon Festival is produced by Backwards Distilling Company, OVG360 at the Ford Wyoming Center, and Townsquare Media. Presented by Martinizing Dry Cleaning. Sponsored in part by the Wyoming Pork Producers, Albertsons, Pathfinder Federal Credit Union, and Occasions by Cory.

Additional Ticket Information
VIP Lounge in Rockstar Balcony, Private Pairing menu, VIP Lanyard & Swag Bag
All Ages
Can't make the Booze & Bacon portion of the day? There's a National Beard & Moustache Competition LATE ATTENDANCE Pass available for $10 each. This ticket is good for attendance to the Beard and Mustache Competition AFTER 2PM. THIS DOES NOT INCLUDE A TICKET TO THE BOOZE AND BACON FESTIVAL.
Booze & Bacon Vendors include:
A Taste of the West (2021 Best in Booze Winner)
Alley Cat Beard Co
Greg Anderson Photographer
Backwards Distilling Company
Bearded Lady Saloon
Big Wig Studios
Black Sunday Tattoo
Brush Creek Distillery
Bull Horn Brewing
Castle Bravo Games
Copper John's Beard Co
Death Grip
Deb's Fudge Kitchen
Doc Good Beard
Drew's Classic Beard
Eat All Day
Feather My Head
Grease Monkey BBQ Supply Store
Gruner Brothers Brewing
Hals Beard
Hat Six Travel Center & Hooch's
Honest Amish
Little Shop of Burgers (2021 Best in Bacon Winner)
Mad Batter Bakery, LLC
Martinizing Dry Cleaning
Mountain Horizon Hemp
Not Your Mama's Salsa
Occasions By Cory
Oil City Axe Company
Oil City Beer Company
OVG Hospitality
PH Glass Studio
Road House
The Shop for Him
Stahoo's Brewery & Taproom
Chee Stephenson - Barber
Ten Sleep Brewing
Teton Distributors
Visit Casper
WYO Branded
Wyoming Whiskey, Inc
Want to be a vendor? Apply online here.