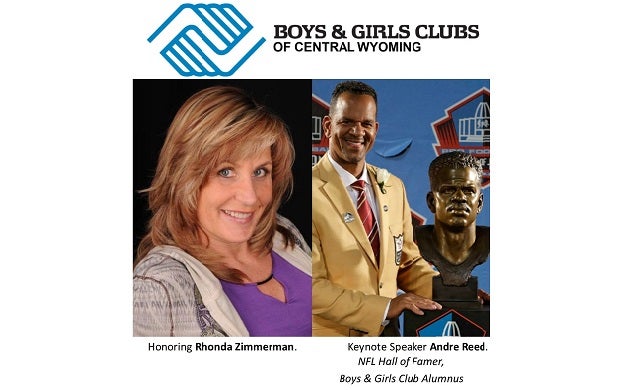 Boys & Girls Club of Central Wyoming
Boys & Girls Club of Central Wyoming
Annual Awards & Recognition Breakfast
Wednesday, October 21, 2020
Breakfast is served at 6:30 am, Program begins at 7:00 am
Begin your day with the Boys & Girls Clubs of Central Wyoming for their Awards & Recognition Breakfast to honor Rhonda Zimmerman.
Featuring Keynote Speaker Andre Reed.
NFL Hall of Famer, Boys & Girls Club Alumnus
Make Your Breakfast Donation Now!
Back a kid for an entire year for $250.
Or donate the morning of the event.
COVID-19 SAFETY PROTOCOLS
In cooperation with Casper-Natrona County Health Department, the Casper Events Center has instituted a series of safety protocols for a safe and responsible event, including:
Masks: All attendees will be required to wear masks during the duration of the show. For those guests seated at tables, they will be allowed to unmask during periods of food service.
Screening: All employees, vendors, show personnel, and talent are temperature and symptom screened upon entrance. All employees, vendors and sub-contractors will wear masks. Gloves will be worn when appropriate
Air Handling: Upgraded HVAC system has the ability to cycle air 6 times an hour completely removing current airflow and replacing with fresh
Increased Cleaning & Sanitation Procedures: All occupied restroom, concession, vending, merchandise & staff service areas will be addressed approximately every half-hour during events with disinfectant application; Increased cleaning and disinfection of all high touch services and high traffic areas between all events and sessions within events
Hand Sanitizer Stations will be placed throughout the building to include ingress lines, restrooms, concession stands, concourses, and arena floor
Social Distancing: Attendees are encouraged to practice social distancing; Event Staff will assist with redirect, slow, and disperse patrons if appropriate
Buffets will be kept behind sneeze guards and will not be self-serve.
Full service tables will have food served with plate coverings.
All eating utensils will not be pre-set, but instead will be given when food is served.
All staff will wear gloves in addition to masks when serving food and clearing tables.
Tables will be spread a minimum of 6 feet apart and will be set with max of 6 people per table; Tables will be split into quadrants to increase distancing and limit lines at bars and drink stations
For events with expected attendance of over 500 people, there will be an increase of entrance points to reduce lines during ingress and egress.