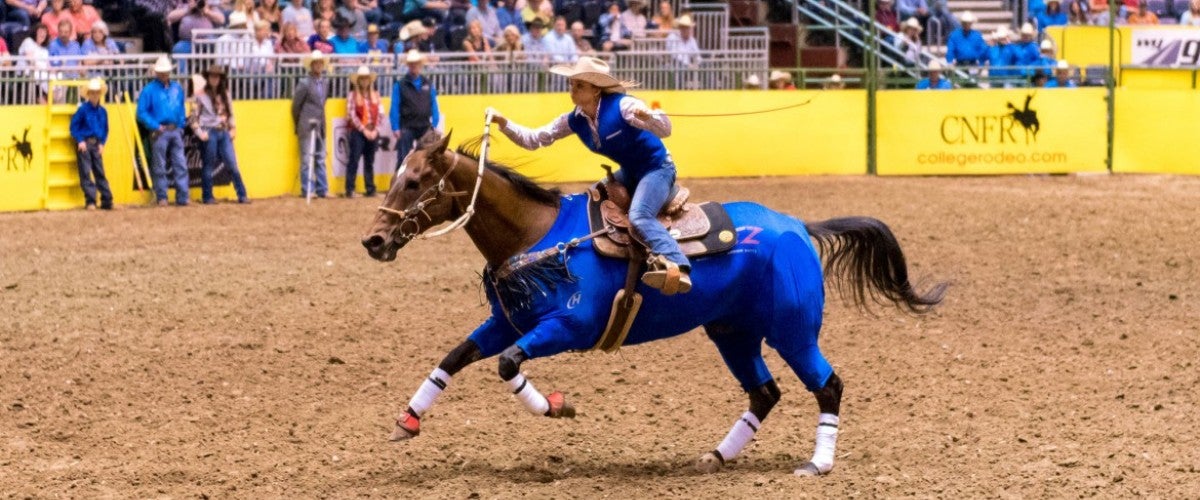 College National Finals Rodeo (CNFR)
College National Finals Rodeo (CNFR)
June
13
-
19
, 2021
College National Finals Rodeo (CNFR)
Date

June

13

-

19

, 2021

Ticket Prices

$10, $20, & $25 or $60, $110 & $130

Availability

On Sale Now
Sat,
June
19
/

2021
@ 7:00pm

Performance #5-Finals
Buy Tickets
Event Details
Champions are made in Casper.
For more than twenty years, the College National Finals Rodeo has made its home and legacy in Casper, Wyoming. Nowhere else in the world can you find the most elite college athletes and animals going head to head in the dirt, competing to be crowned the best. More than a rodeo, CNFR is a celebration of our western tradition and athletic excellence that once you've experienced, you'll never forget.
The CNFR is the best of the best in college rodeo. It is where the National Intercollegiate Rodeo Association crowns individual event champions in saddle bronc riding, bareback riding, bull riding, tie-down roping, steer wrestling, team roping, barrel racing, breakaway roping, and goat tying. National team championships are also awarded to both men's and women's teams. Over 400 cowboys and cowgirls from over 100 universities and colleges compete in Casper each year. Contestants compete all year in one of the NIRA's 11 regions for a chance to rope or ride at the CNFR.
The top three students in each event, and top two men's and women's teams from the NIRA's 11 regions will qualify for the CNFR.
Additional Ticket Information
Tickets for Slack Rounds are $10 General Admission.
Bulls & Broncs and all Evening performances are $10 General Admission, $20 Reserved Seating (Rows 14-21), and $25 Box Seats (Rows 4-13).
Tickets for Saturday's Championship Round are all reserved seating with Upper Reserved tickets for $15, Lower Reserved for $25, and Box Seats for $30.
Season Tickets are $60 General Admission, $110 Reserved Seats, $130 Box Seats.
Sunday, June 13: Bulls & Broncs Roughstock Slack
Monday, June 14: Monday Morning Slack Round
Tuesday, June 15: Tuesday Morning Slack Round
Tuesday, June 15: Performance #1 - "Casper Night"
Wednesday, June 16: Performance #2 - "Local Heroes Night"
Thursday, June 17: Performance #3 - "Give Cancer the Boot"
Friday, June 18: Performance #4 - "Military Night"
Saturday, June 19: Performance #5 - "The Finals"
From the community pancake breakfast to the CINCH style show, to nightly performances…check out all of the activities associated with the 2021 CNFR.
Plan on heading to each CNFR performance early so you have time to check out the tradeshow. Over 25 vendors will be on-site showing and selling their products and services. Explore a variety of western hats, clothing, and accessories for men and women, along with leather works, jewelry, belt buckles, metal works, decor, and more.
Tradeshow admission is included with your performance ticket. The tradeshow opens for Sunday's Bulls, Broncs & Breakaways at 12 pm; Monday & Tuesday morning Slack rounds at 6:30 am; Tuesday through Saturday's nightly Performances at 5:30 pm.
Annual NIRA Fashion Show
Luncheon, Live Auction, & Silent Auction
Saturday, June 190, 2021 11:30am - 1:00pm
Ramkota Hotel ~ 800 N. Poplar ~ Casper, WY 82601
Presented by:
Cinch
All proceeds go to the National Intercollegiate Rodeo Association Foundation
CNFR.com
Casper is home to iconic landscapes waiting to be explored, touchable history waiting to be experienced, amazing food waiting to be devoured, and endless things to do around every corner.
Looking for a place to eat, stay or play while visiting Casper for the CNFR? Check out VisitCasper.com to help make your trip unforgettable.
The College National Finals Rodeo is expanding live television coverage on ESPN. This year, all performances of the CNFR—Tuesday through Saturday (June 15-19)—will air on ESPN3. ESPN3 is available by using the ESPN App. Download the ESPN App from the App Store or Google Play. ESPN3 is also available on your computer. To view ESPN3 on a computer: Go to ESPN.com, click on 'WATCH', scroll down to 'CHANNELS', Select ESPN3 and click on "College Rodeo". CNFR performances will stream live and replay the following day.
Watching ESPN3 is easy using iOS, AppleTV, Andoid, Chromcast, Roku, Kindle Fire, Fire TV, and Xbox. You may need to register to watch, using your cable or satellite provider sign in.
Additionally, the CNFR telecast production team will be producing two programs to air later in the summer on ESPNU. These programs will feature interviews, premier action from Casper, Wyoming, and the crowing of the CNFR champions.
The CNFR telecast team would like to thank our corporate partners: Cinch Jeans & Shirts, Wyoming Division of Tourism, VisitCasper, Professional Rodeo Cowboys Association, Platinum Performance, Cactus Saddlery, , and Ram Rodeo.