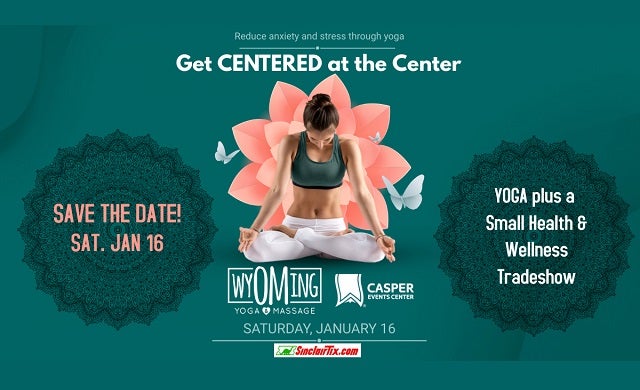 Get Centered at the Center
Jan

16

, 2021

$20 Advance; $23 Day of Event
Get Centered at the Center
a Yoga Event with Health & Wellness Tradeshow
A Health & Wellness tradeshow will begin at 8:00 am
wyOMing Yoga & Massage "Mindful Movements" instructor, Mallory, will be leading a gentle 60 minute class for all levels and abilities starting at 9:00 am.
Health & Wellness tradeshow re-opens at 10:00 am
Tradeshow Vendors (as of 01/13/2021):
307 Healing Waters, LLC
Sensory Deprivation Float Therapy
Ask Wellness
CBD & Wellness Products
Balanced Healing Salt & Sauna
Halotherapy & Infrared Sauna
Balanced Warrior
Yoga health coach rooted in Ayurveda
Beyond Borders Yoga & Adventure Retreats
Meditation & Yoga Retreats
BMH Fitness for Life
Fitness Facility
Dahl Therapeutics LLC
Massage Therapy
Empowered Chiropractic
Neurologically based, family focused chiropractic
The Juice Goose
Juices
New Beautiful You
Medi-Spa
The Olive Branch Health & Lifestyle Coaching
Holistic Health Coaching
Pathfinder Physical Therapy
Physical Therapy
Radical Lotus
Custom, handmade malas, mala bracelets & jewelry
Reiki Transformations by Michele Fritz
Reiki
The Rusty Bucket
Microgreens, Produce, Yogurt, Cheeses
Sacred Sounds
Sound Therapy with Singing Bowls
She
Wellness Boutique for Women & Girls
Wellness for All
Wellness coaching, mindfulness, infrared sauna
WYO Massage Therapy
Massage Therapy
wyOMing Yoga & Massage
Yoga Studio and Massage Therapy
Zyia Active
Active Wear
The extra space on the Events Center floor will allow for a large amount of yogis to be able to practice together while maintaining distancing guidelines.
We'll be there with a vendor both selling discounted wyOMing Yoga passes and have fun give-aways!
Participants are asked to bring their own supplies if possible (mat, blanket, block, bolster, strap, and towels. A small amount of these items will be available to borrow during the event. Masks will be required with a "Mask to Mat Policy" – participants are required to wear masks into the building until they've settled onto their mat, where masks can be removed. If participants leave the mat, they are required to have a mask on. Additionally, masks are encouraged to be worn during yoga when possible but not required.
Admission will be $20 in advance and $23 on the day of the event.
COVID-19 Safety Protocols
In cooperation with Casper-Natrona County Health Department, the Casper Events Center has instituted a series of safety protocols for a safe and responsible event, including:
Screening:
All employees, vendors, show personnel, and volunteers are temperature and symptom screened upon entrance. All employees, vendors and sub-contractors will wear masks. Gloves will be worn in any hand to hand action and upon any additional requirements to do so;
Masks:
Masks or facial coverings are required to be worn for all attendees while not drinking or dining;
Spacing:
Mat spaces will be generously spaced to allow over 6' of space per participant.
Air Handling:
The Casper Events Center's HVAC system has the ability to cycle air 6 times an hour, completely removing current airflow and replacing with fresh air;
Sanitization:
Increased sanitization of high-contact areas including bathrooms, concourses, concession stands, elevators, and entrances;
Hand sanitizer stations will be placed throughout the venue to promote hand hygiene;