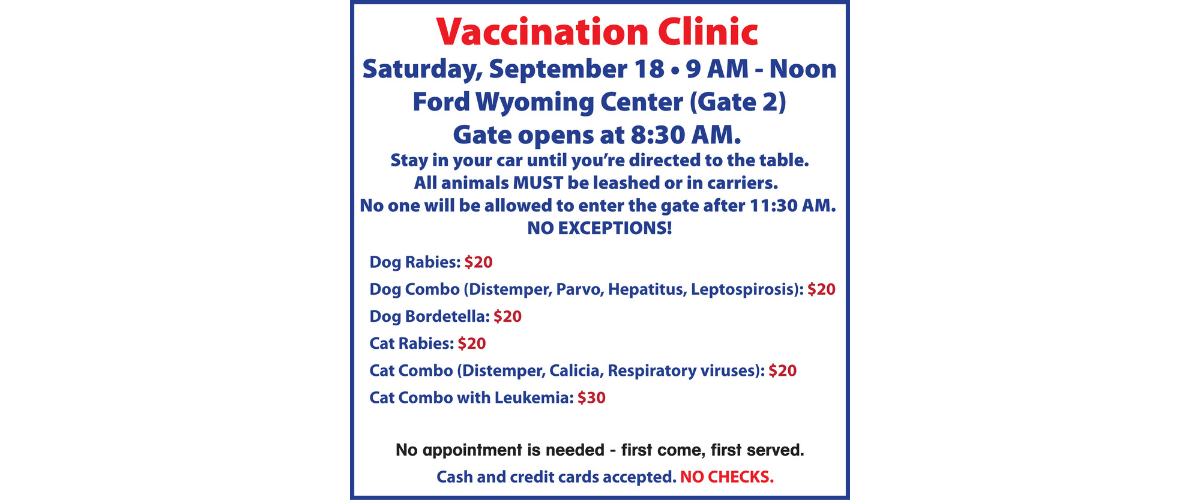 Casper Humane Society
Humane Society Vaccination Clinic
Casper Humane Society
Humane Society Vaccination Clinic
September
18
, 2021
Casper Humane Society
Humane Society Vaccination Clinic
Date

September

18

, 2021

Event Starts

9:00 AM

Doors Open

8:30 am
Event Details
Enter through Gate #2
9:00 am to 12 noon only
Gate opens at 8:30 am
Stay in your car until you're directed to the table.
All animals MUST be leashed or in carriers.
No one will be allowed to enter the gate after 11:30 am.
No Exceptions.
No appointment is needed - first come, first served.
Cash and credit card accepted. No Checks.
Dog Rabies: $20
Dog Combo (Distemper, Parvo, Hepatitus, Leptospirosis): $20
Dog Bordetella: $20
Cat Rabies: $20
Cat Combo (Distemper, Calicia, Respiratory Viruses): $20
Cat Combo with Leukemia: $30