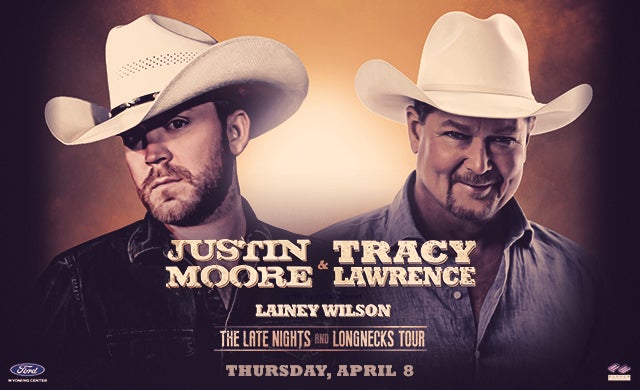 Justin Moore & Tracy Lawrence
Apr

8

, 2021

Limited Capacity Seating has been created to execute a safer seating environment, limiting pod groupings of fans to 8 or less seats. Fans are not required to purchase all seats in a pod group. Fans may be seated with other fans not known prior to purchasing.
Fans are asked to respect one another to provide a safe environment for everyone in attendance.
The seating for this event is set up with social distancing guidelines. There is an inherent risk of exposure to COVID-19 in any public place where people are present. COVID-19 is an extremely contagious disease that can lead to severe illness and death. Senior citizens and guests with underlying medical conditions are especially vulnerable. By entering the venue, you and your party voluntarily assume all risks related to exposure to COVID-19, and Venue/Promoter disclaims any and all liability related thereto.

$39.50, $49.50 ,$59.50 & $69.50 each
Justin Moore & Tracy Lawrence
The Late Nights & Longnecks Tour
Justin Moore and Tracy Lawrence
The Late Nights and Longnecks Tour
with special guest Laney Wilson
Thursday, April 8 at 7 pm
About Justin Moore
Justin Moore has built a loyal fanbase over the past decade with his traditional Country sound and captivating live shows. Those fans helped boost his fifth studio album, LATE NIGHTS ANS LONGNECKS, to the top of the charts upon its release in July. The lead track from the Arkansas native's LP, "The Ones That Didn't Make It Back Home," peaked at No.1 and marked Moore's eighth chart-topping single on both Mediabase and Billboard charts. Penned alongside Paul DiGiovanni, Chase McGill and producer Jeremy Stover, "The Ones That Didn't Make It Back Home" further proves Moore's skills as a thought-provoking project, KINDA DON'T CARE, earned the singer his third consecutive No.1 album debut and features his chart-topping singles "You Look Like I Need A Drink" and "Somebody Else Will." It served as a follow up to his second No.1 album release, the GOLD-certified OFF THE BEATEN PATH. Over his 10+ year career, Moore has produced eight No.1's including "If Heaven Wasn't So Far Away," "Small Town USA" and "Till My Last Day" as well as seven Top 10 hits and PLATINUM-certified albums JUSTINE MOORE and OUTLAWS LIKE ME. The Valory Music Co. recording artist has earned multiple ACM, ACA and ACC Awards nominations as well as an ACM Award win. He has shared the stage with Hank Williams Jr., Brad Paisley, Miranda Lambert and Brantley Gilbert. In 2020 he will kick-off his LATE NIGHTS AND LONGNECKS TOUR with Tracy Lawrence
About Tracy Lawrence
One of country music's truest traditionalists, Tracy Lawrence has sold more than 13 million albums and has charted 18 No. 1 songs. He has garnered numerous CMA and ACM awards and nominations, as well as a GRAMMY nomination. Recently, Lawrence released his latest album, 'Made In America.' The album is a milestone for Lawrence – penning 8 of the 12 tracks featured.
About Lainey Wilson
Lainey Wilson's music is by equal measures richly textured and forthright – much like her honeyed Louisiana drawl, which is as likely to offer you a warm word of encouragement as it is to call you on your B.S. Signed to BBR Music Group's flagship imprint, Broken Bow Records, Wilson has spent years honing her song craft and developing her own "bell bottom country" sound, which is unapologetic, gritty, free-spirited, and exemplary of both her personality and her preferred fashion aesthetic. Her songs and live performances are anchored in straightforward, raw emotion that doesn't beat around the bush about who Lainey Wilson is - either as a person or an artist.
COVID-19 Safety Protocols
In cooperation with Casper-Natrona County Health Department, the Ford Wyoming Center has instituted a series of safety protocols for a safe and responsible event. View our current COVID-19 Safety Protocols here.
About Pepper Entertainment
Pepper Entertainment Established in July of 2006, Pepper (PE) is based in Sioux Falls, SD. As one of the fastest scaling, independent promotions company in the Midwest, PE, collectively, exceeds 25 years of experience spanning a broad scope of industry specialties, such as; Live Promotions, Corporate & Private Event Talent Buying, Club & Performing Art Center Programming & Media & Marketing Services. For more information, visit www.PepperEntertainment.com
About Spectra
Spectra is an industry leader in hosting and entertainment, partnering with clients to create memorable experiences for millions of visitors every year. Spectra's unmatched blend of integrated services delivers incremental value for clients through several primary areas of expertise: Venue Management, Food Services & Hospitality, and Partnerships. Learn more at SpectraExperiences.com.
For more information about the Ford Wyoming Center, visit: www.FordWyomingCenter.com