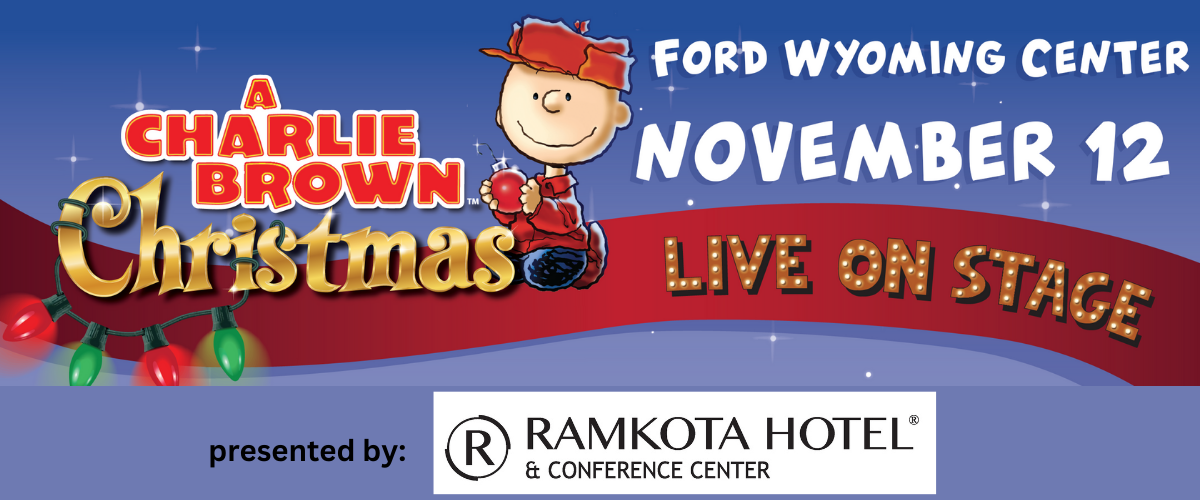 Ramkota Hotel presents
A Charlie Brown Christmas Live On Stage
Ramkota Hotel presents
A Charlie Brown Christmas Live On Stage
November
12
, 2023
Ramkota Hotel presents
A Charlie Brown Christmas Live On Stage
Event Details
The Peanuts Gang Comes to Ford Wyoming Center on November 12 for A Charlie Brown Christmas Live On Stage
Live Show is a Fresh Take on the Timeless Classic
Presented by the Ramkota Hotel & Conference Center
Just in time for the holiday season, the Peanuts gang will be coming to the Ford Wyoming Center on Sunday, November 12 in A Charlie Brown Christmas Live On Stage. Presented by the Ramkota Hotel and Conference Center.
Produced by Gershwin Entertainment, A Charlie Brown Christmas Live On Stage is a fresh take on the timeless classic that gives the audience a completely new way of experiencing the storyline as portrayed by real actors who maintain the integrity and spirit of each Peanuts character.
This Emmy and Peabody award-winning story by Charles M. Schulz has been a longstanding tradition, warming the hearts of millions of fans since it first aired on television over 50 years ago. Now, the live on stage adaptation of the classic animated special brings all your favorite characters to life - all set to the unforgettable sounds of the Vince Guaraldi musical score.
A Charlie Brown Christmas Live On Stage encompasses each of your favorite scenes from the original animated show. It even expands the storyline into greater detail with more fun, more music, more finding the true Christmas spirit. This Peanuts Experience also includes an intermission and, after the final bow, the show crescendos into a celebration of song as the audience is invited to join the Peanuts gang in singing Christmas favorites.
So, join Charlie Brown, Snoopy, Lucy, Linus and the rest of the Peanuts gang in their journey to uncover the true meaning of Christmas.
A Charlie Brown Christmas by Charles M. Schulz is based on the classic special by Bill Melendez and Lee Mendelson. The stage adaptation by Eric Schaeffer with a special arrangement with Arthur Whitelaw and Ruby Persson. A Charlie Brown Christmas is presented by arrangement with TAMS-WITMARK Music Library, Inc.
About Gershwin Entertainment
Gershwin Entertainment is a diversified entertainment production and marketing agency founded by industry veteran Todd Gershwin. Gershwin Entertainment specializes in producing live events, theatrical tours, and lifestyle marketing. Gershwin has developed and produced successful theatrical productions, concerts and tours for numerous iconic brands. Current North American touring projects include A Charlie Brown Christmas, Rudolph the Red Nosed Reindeer the Musical, Rainbow Rangers, Million Dollar Quartet, and A Night with Janis Joplin. Gershwin's projects have played at leading venues throughout North America including Madison Square Garden, the Hollywood Bowl, Ravinia, Wolftrap, Arena Stage, and Pasadena Playhouse, and numerous Broadway theaters. Corporate marketing clients have included Pepsi, Reebok, Oracle, Nike, Geico, TIAA-CREF, and the Big East Conference.
The characters of Peanuts and related intellectual property are owned by Peanuts Worldwide, which is 41% owned by WildBrain Ltd., 39% owned by Sony Music Entertainment (Japan) Inc., and 20% owned by the family of Charles M. Schulz, who first introduced the world to Peanuts in 1950, when the comic strip debuted in seven newspapers. Since then, Charlie Brown, Snoopy and the rest of the Peanuts gang have made an indelible mark on popular culture. In addition to enjoying beloved Peanuts shows and specials on Apple TV+, fans of all ages celebrate the Peanuts brand worldwide through thousands of consumer products, as well as amusement park attractions, cultural events, social media, and comic strips available in all formats, from traditional to digital. In 2018, Peanuts partnered with NASA on a multi-year Space Act Agreement designed to inspire a passion for space exploration and STEM among the next generation of students.
Premier Parking Includes:
Parking in Lot 11
Premier Entrance in Banquet Doors
One Ticket is good for a single carload
Does not include early entrance
Must have a concert ticket for entry into the venue