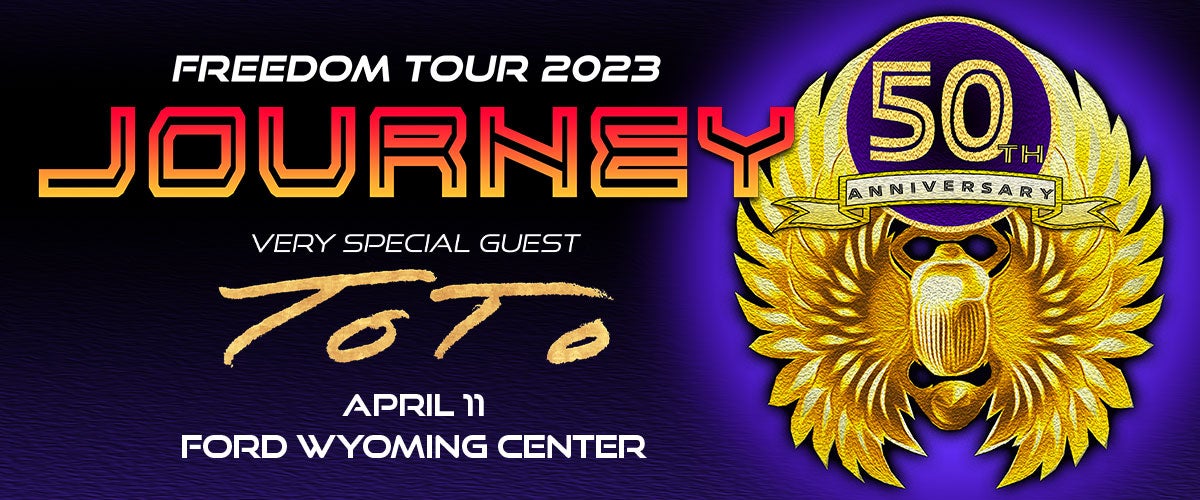 Freedom Tour 2023
Journey
with very special guest TOTO
Freedom Tour 2023
Journey
with very special guest TOTO
April
11
, 2023
Freedom Tour 2023
Journey
with very special guest TOTO
Date

April

11

, 2023

Event Starts

7:30 PM

Ticket Prices

$149.50, $125, $85, $65 & $49.50 *prices subject to change

Availability

On Sale Now

Doors Open

6:00 pm
Event Details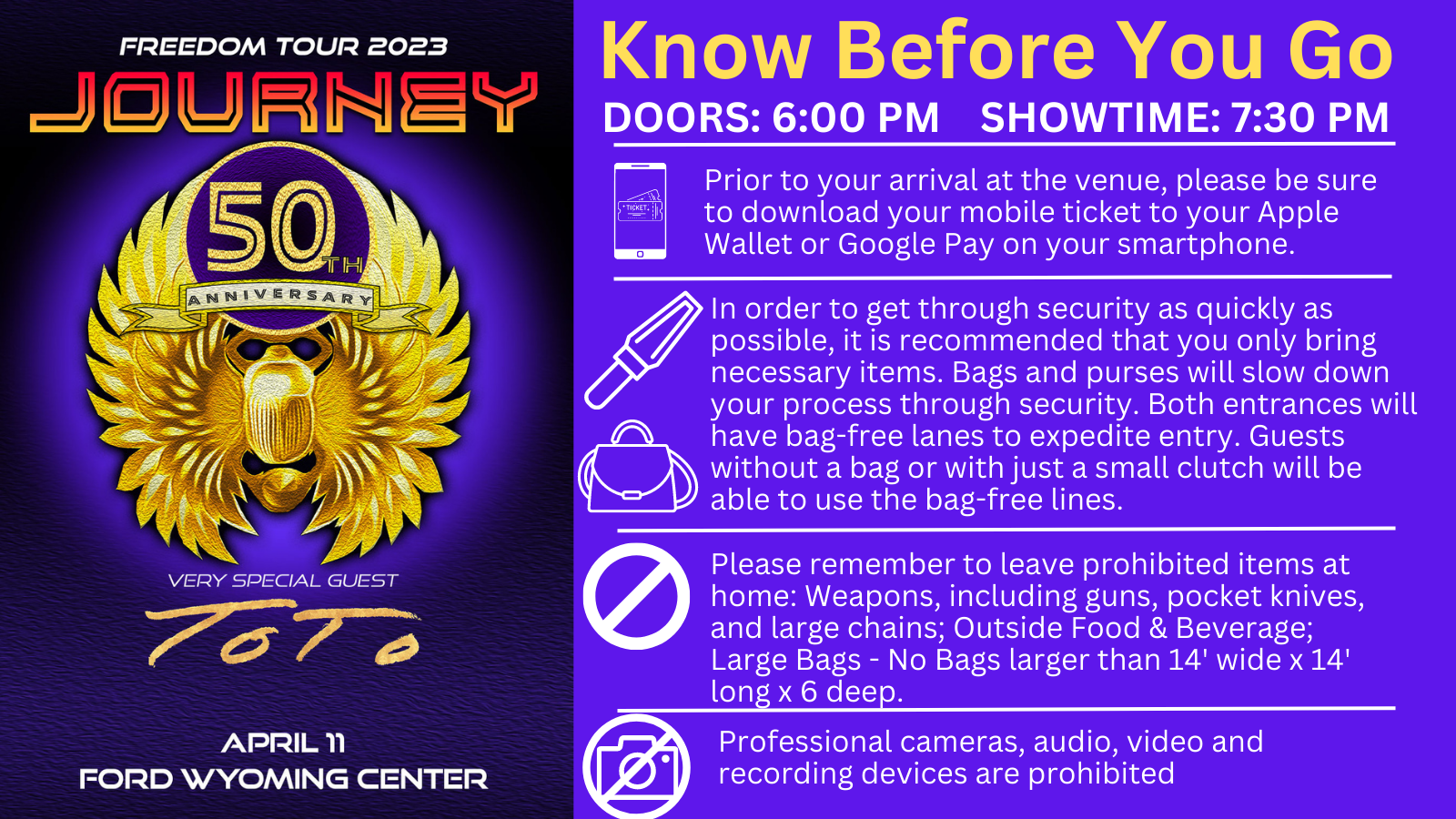 Important Info that you need to know before you go to the show:
Doors open at 6:00 pm
Show starts at 7:30 pp
Security: For the safety of everyone attending the show, you and your belongings will be screened upon entrance to the Ford Wyoming Center with walk-through metal detectors and/or magnetic wands. Bags will also be checked.
In order to get through security as quickly as possible, it is recommended that you only bring necessary items. Bags and purses will slow down your process through security. Both entrances will have bag-free lanes to expedite entry. Guests without a bag or with just a small clutch will be able to use the bag-free lines.
Tickets: Prior to your arrival at the venue, please be sure to download your mobile ticket to your Apple Wallet or Google Pay on your smartphone. Find more information here.
Gate Entry and Parking Lots (see map here):
If your tickets are in Sections 101-111 or 201-208, please enter through Gate #2 or Gate #3 and park in Lots 7-10. Enter through the door by the Caspar Collins Statue.
If your tickets are in Sections 112-122 or 215-222, please enter through Gate #1 or Gate #2 and park in Lots 1-6. Enter through the door by the SinclairTix Box Office.
If your tickets are Floor Tickets, you may enter through Gate 1-3 and park in Lot 1-10.
If you have Club 13 Tickets, you will pass Gate #3 to park in Lot #11.
The Primary ADA Parking Lot can be accessed through Gate #1.
If you have Premier Parking Tickets, you will pass Gate #3 to park in Lot #11. Premier Parking available for purchase online here.
Camera Policy: Professional cameras, audio, video, and recording devices are not allowed.
Premium Parking and Entrance Add-On
Add-on to your experience and get premium parking and entrance. $25 per carload lets you park in lot #11 and enter through the Banquet Doors. Only a limited number of these add-ons are available so act fast!
Since the group's formation in 1973, JOURNEY has earned 19 top 40 singles, 25 gold and platinum albums, and has sold over100 million albums globally. Their "Greatest Hits" album is certified 15 times platinum, making JOURNEY one of the few bands to ever have been diamond-certified, and their song "Don't Stop Believin'" has been streamed over one billion times alone.JOURNEY was inducted into the Rock And Roll Hall Of Fame in 2017, and 2018's co-headlining tour with DEF LEPPARD was the band's most successful tour to date, landing them in the Top 10 year-end touring chart with more than 1 million tickets sold, and earning them the prestigious Billboard "Legends Of Live" touring award. March 2019 saw the release of "Escape & Frontiers Live In Japan", a live DVD/CD set from their concert at the Budokan in Tokyo featuring the band's first-ever performances of the albums "Escape" and"Frontiers" in their entirety. JOURNEY has also received a star on the Hollywood Walk Of Fame and were inducted into the Hollywood Bowl Hall Of Fame. Additionally, the band is the subject of the award-winning documentary "Don't Stop Believin': Everyman's Journey" about the band's resurgence upon adding Arnel Pineda as lead singer after JOURNEY Founder, Neal Schon discovered the Philippines native on YouTube.
The members of TOTO are celebrating an accomplishment few bands have achieved in the modern era. Cumulative streams of the ensemble's repertoire now exceed 3 billion plays. Amongst the most listened-to recordings, "Africa" accounts for over one billion streams at Spotify alone. This year the song was recertified by the RIAA 8X Platinum. Over the past decade, the band has had a major renaissance in popularity like few bands at this point in their career. The audience is truly multi-generational, becoming younger with each passing year. Joining Steve Lukather and Joseph Williams are band members bassist John Pierce (Huey Lewis and The News), drummer Robert "Sput" Searight (Ghost-Note, Founding member Snarky Puppy, Snoop Dogg), keyboardist Dominique "Xavier" Taplin (Prince, Ghost-Note), multi-instrumentalist / vocalist Warren Ham (Ringo Starr) and keyboardist / background vocalist Steve Maggiora, This line-up marks the fifteenth incarnation of Toto in consideration of band members or side men who joined or exited. Individually and collectively, few have had a larger imprint on pop culture than the members of TOTO. The family tree can be heard on an astonishing 5000 albums that together amass a sales history of a half a billion albums. Amongst these recordings, NARAS applauded the performances with hundreds of Grammy nominations. With now 45+ years together and literally thousands of credits, including the biggest-selling album of all time: Michael Jackson's Thriller, and accolades to their names, TOTO remains one of the top-selling touring and recording acts in the world. They are the benchmark by which many artists base their sound and production, and they continue to transcend the standards set by the entire music community, being simply synonymous with musical credibility. They are pop culture and are one of the few 70's bands that have endured the changing trends and styles continuing to remain relevant.